MBS Bonsai Exhibits & Shows
Our opportunity to display for the aesthetic enjoyment of members and the Wisconsin community.
The Milwaukee Bonsai Society promotes its activities locally at several exhibits and shows each year. These exhibits introduce bonsai to audiences of all ages, our programs and demonstrations bring the power of nature and art to life and inspire the lives of the people they reach.
Whether we are exhibiting in a lower level media room, reaching young minds at a folk fair, or bringing bonsai to middle school and seniors, our programs are accessible year-round and are affordable. These programs elevate and energize. Regardless of your background, age or physical capacity, bonsai can stimulate and empower you. Our exhibits and programs strive to encourage people to share in the elegance of bonsai. Let's look at a few starting early in the seasons.
Winter Silhouettes Exhibit
In addition to the joys of snow during the winter and early spring months,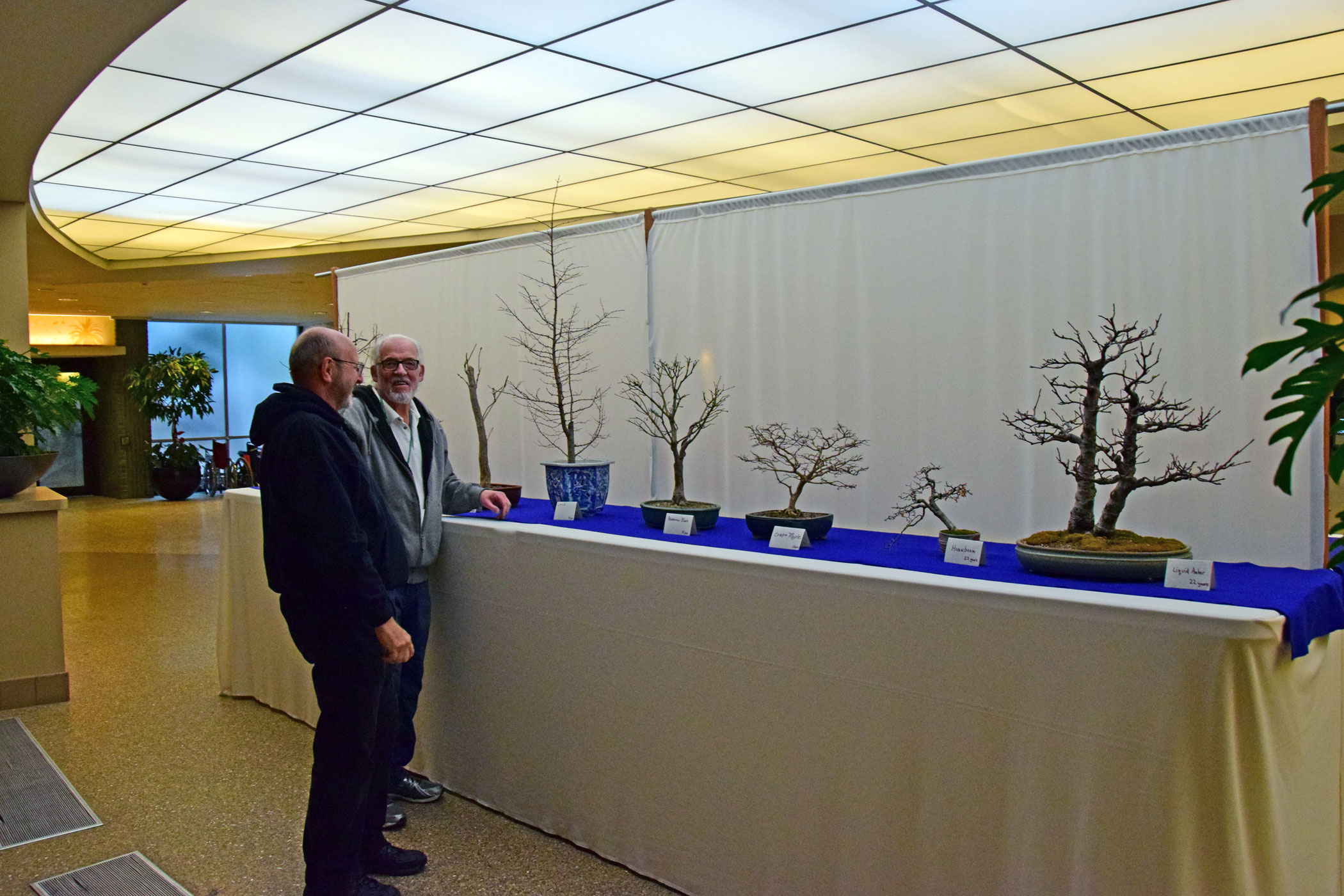 we in the Midwest have an opportunity to view our landscape in the 'raw', that is, without the dressing of buds, leaves and flowers. This show is our annual Winter Silhouettes Exhibit usually held at the Domes in conjunction with the Garden Railway Show. Only deciduous trees are featured such as maples, hornbeams, elms, hawthorns, apples, to name a few. The pictures here are from the 2015 show and includes a peak at the trains.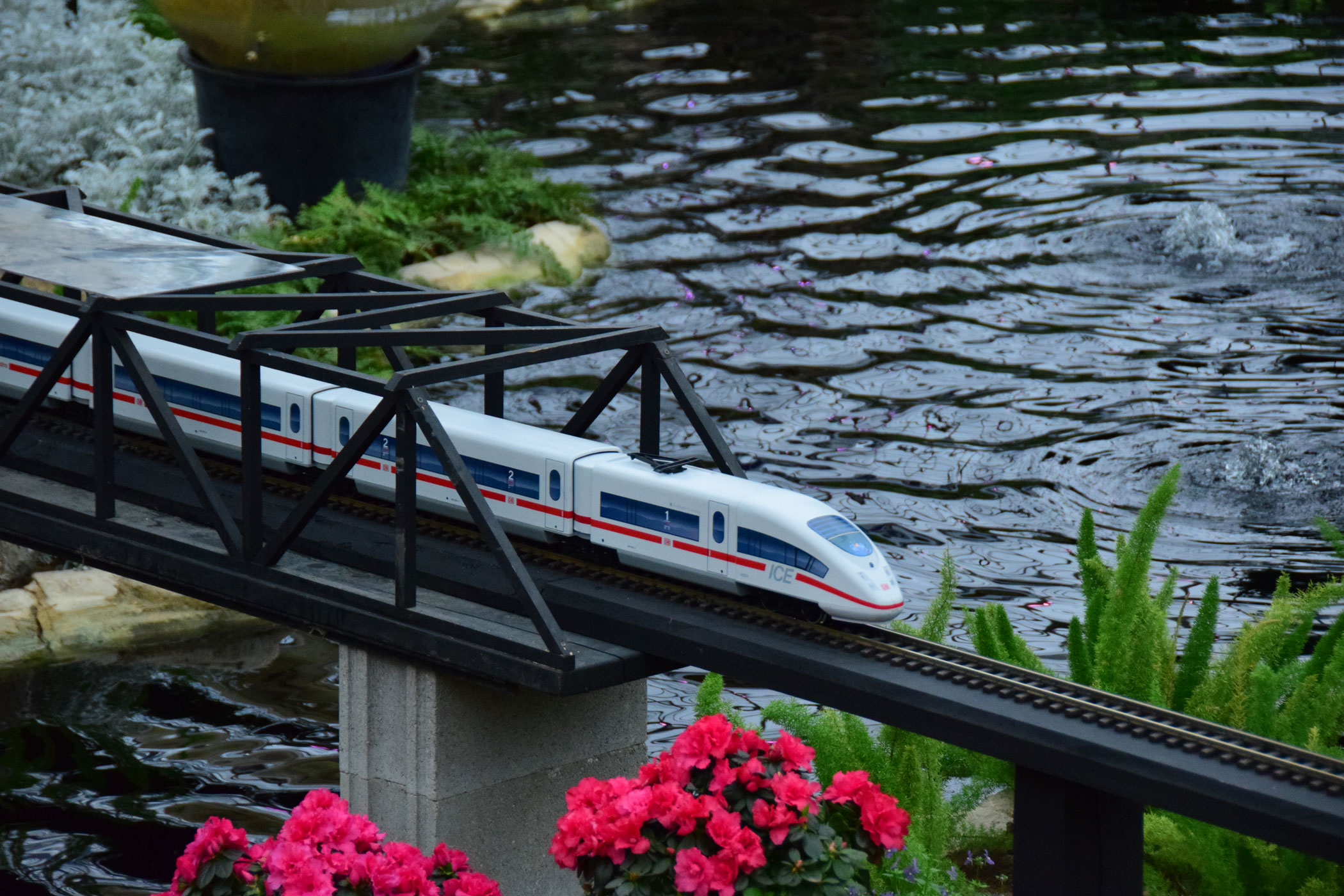 For more details of the current Winter Silhouettes Exhibit check out the Silhouette Flyer .
Spring Bonsai Display
In spring, trees that have been dormant all winter are covered with new buds and foliage. Some even bloom. This annual renewal of life is our Spring Bonsai Display which features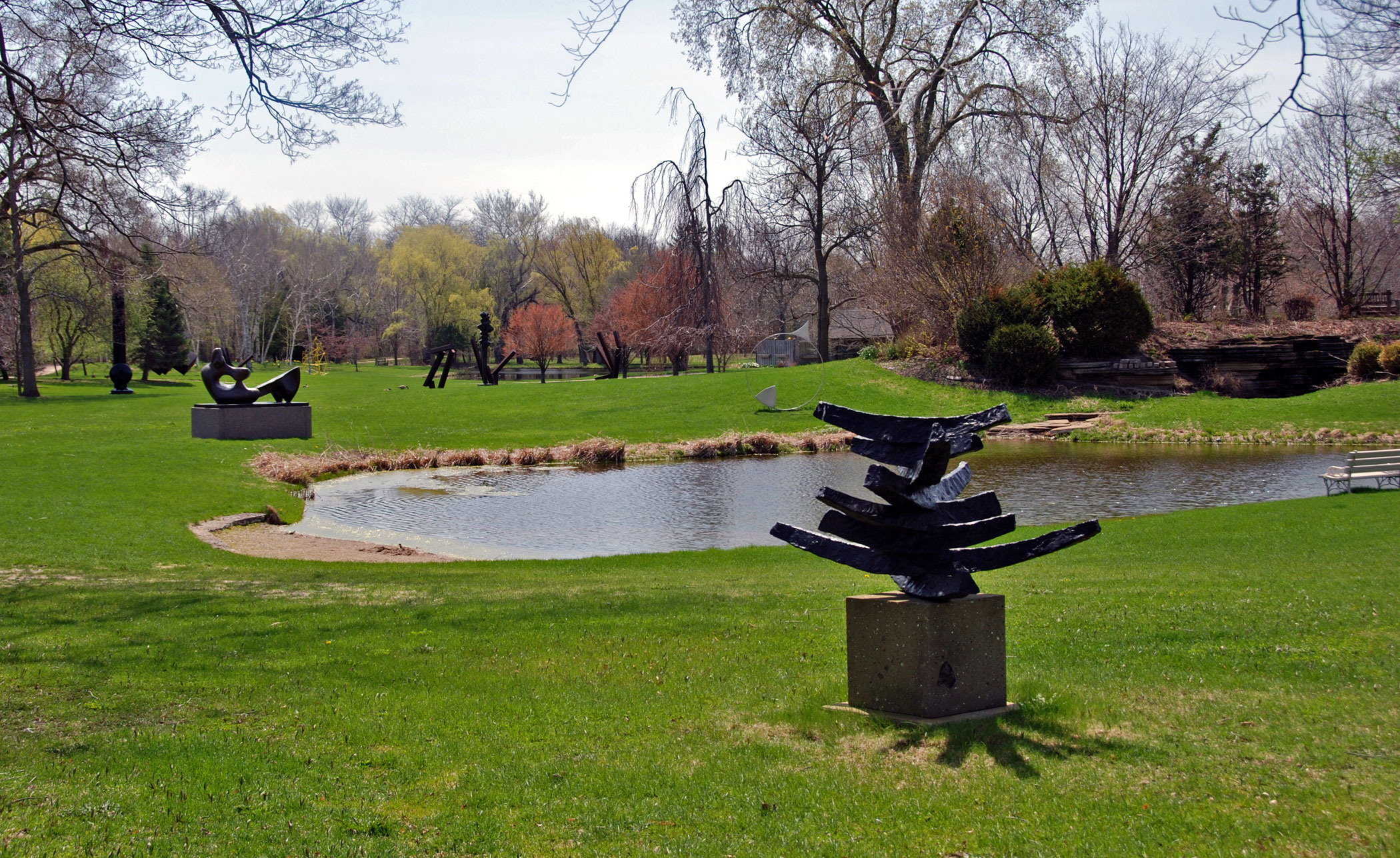 spring-blooming trees, trees just kicking off their flush of growth. Usually this show is held at the Lynden Sculpture Garden giving visitors an opportunity to learn about this fascinating ancient art form as well as explore the variety of stunning outdoor sculptures.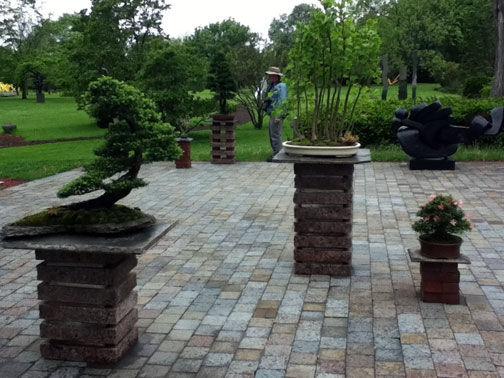 For more details of the current Spring Bonsai Display check out the Spring Show Flyer .
Wisconsin State Fair
During the Wisconsin State Fair in August, the Horticulture, Craft & Culinary Pavilion is home to an extensive collection of bonsai trees during our Rotating Bonsai Display; Exhibit 1 – Thursday – Sunday, Exhibit 2 – Monday – Wednesday and Exhibit 3 – Thursday – Sunday.
Each year the Wisconsin State Fair comes up with a new theme and with this theme in mind we share our trees with the thousands of fair goers. All three exhibits are judged as separate shows so there are plenty of ribbons to go around! Check out the State Fair Flyer and for more details see the MBS newsletter for current information.
Annual Exhibit
Our first annual exhibit was in 1970, only one year after founding MBS. Each and every year since then, we have held an exhibition of the best trees of our members.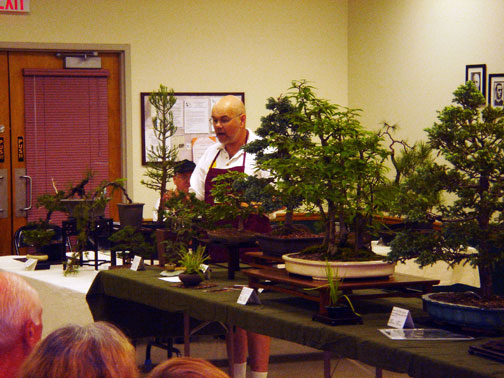 Like this picture from an earlier exhibit in 2005 and the one below it from 2014.
In recent years we have made this exhibit not only a member event but a public celebration of our bonsai achievements. We have added a headlining artist to judge, vendors, workshops, and a banquet. It's our opportunity to enjoy each other's company in work and play among our bonsai.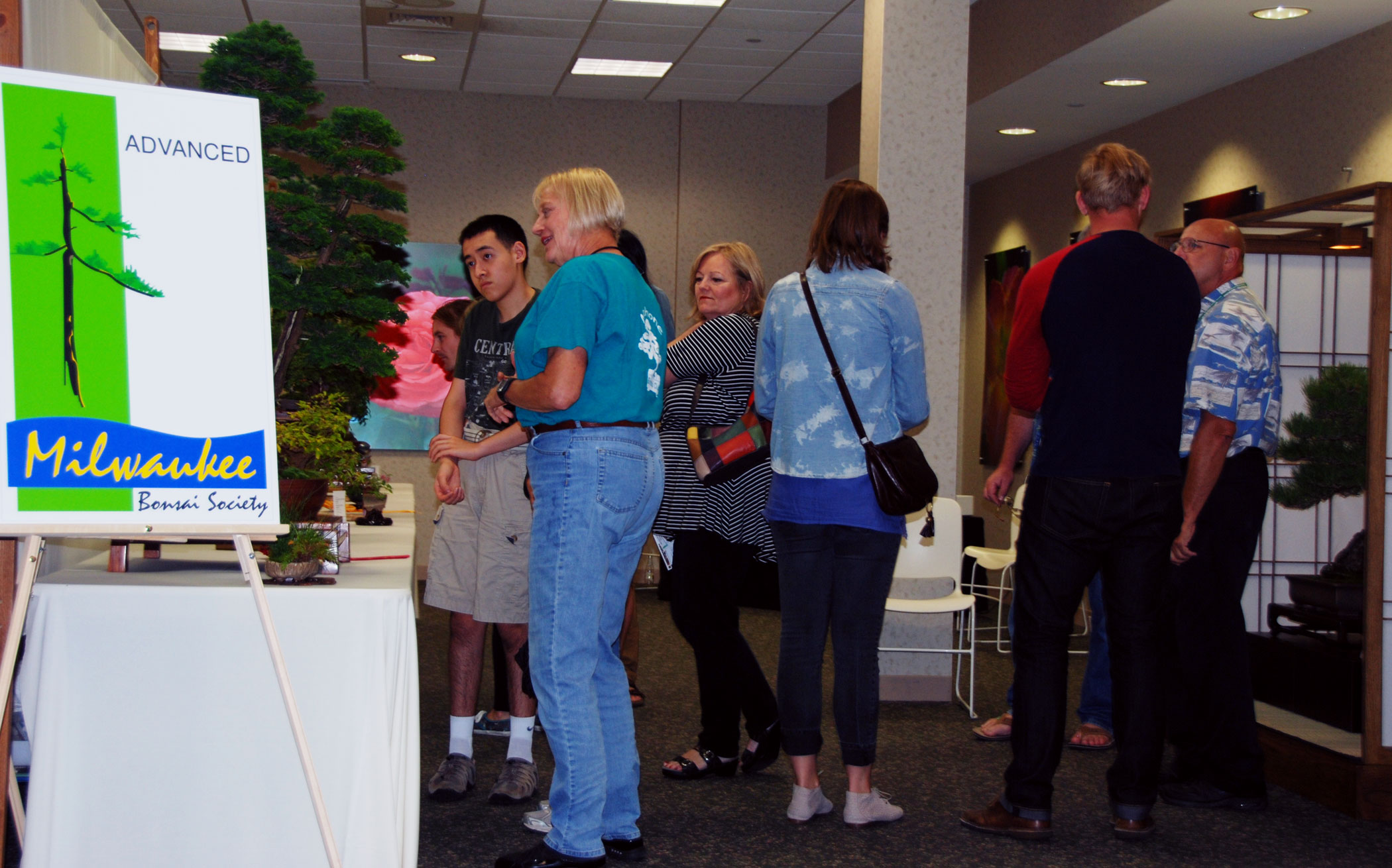 An exhibit of the best trees of our members... along with trees in training. See the Annual Exhibit Flyer for details and times for this 3 day exhibit. And for current on-going information on the event see Annual Exhibit
Holiday Folk Fair
Join in the celebration of cultural diversity. Holiday Folk Fair International showcases the heritage and culture of over 50 ethnic groups through international exhibits, food and dance performances. Our commitment to children's activities includes this very unusual exhibit. Our members display trees and provide children's activities. There is an especially big rush on Friday as children race to fill their "passport".
It is great fun for everyone. See the Folk Fair Flyer for details and times for this 3 day exhibit.
Exhibit Activities
MBS has also sponsors booths at garden shows, Japanese Cultural Events, fundraising events, garden tours, athletic clubs and specialty show such as the one pictured here for the graduation of the Advance Class after three years of study. Watch the What's New page to learn which events are upcoming.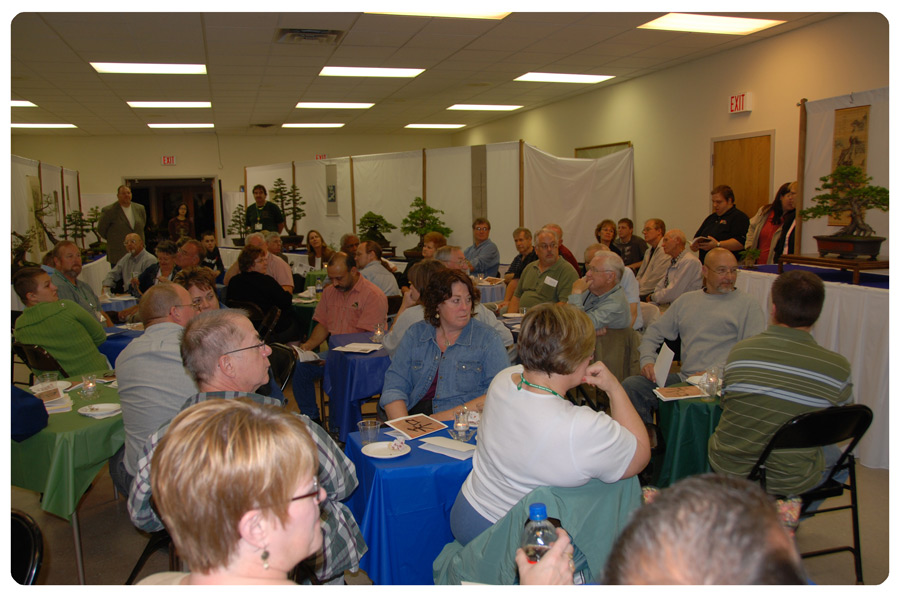 You can get involved by showing trees, greeting and educating the public as they enjoy the trees. Join a show committee and help design and coordinate the exhibit. These are excellent opportunities to learn more about displaying and the aesthetics of bonsai.

On the right or more details for volunteering opportunities and pictures of our members enjoying these activities.