MBS Bonsai Workshops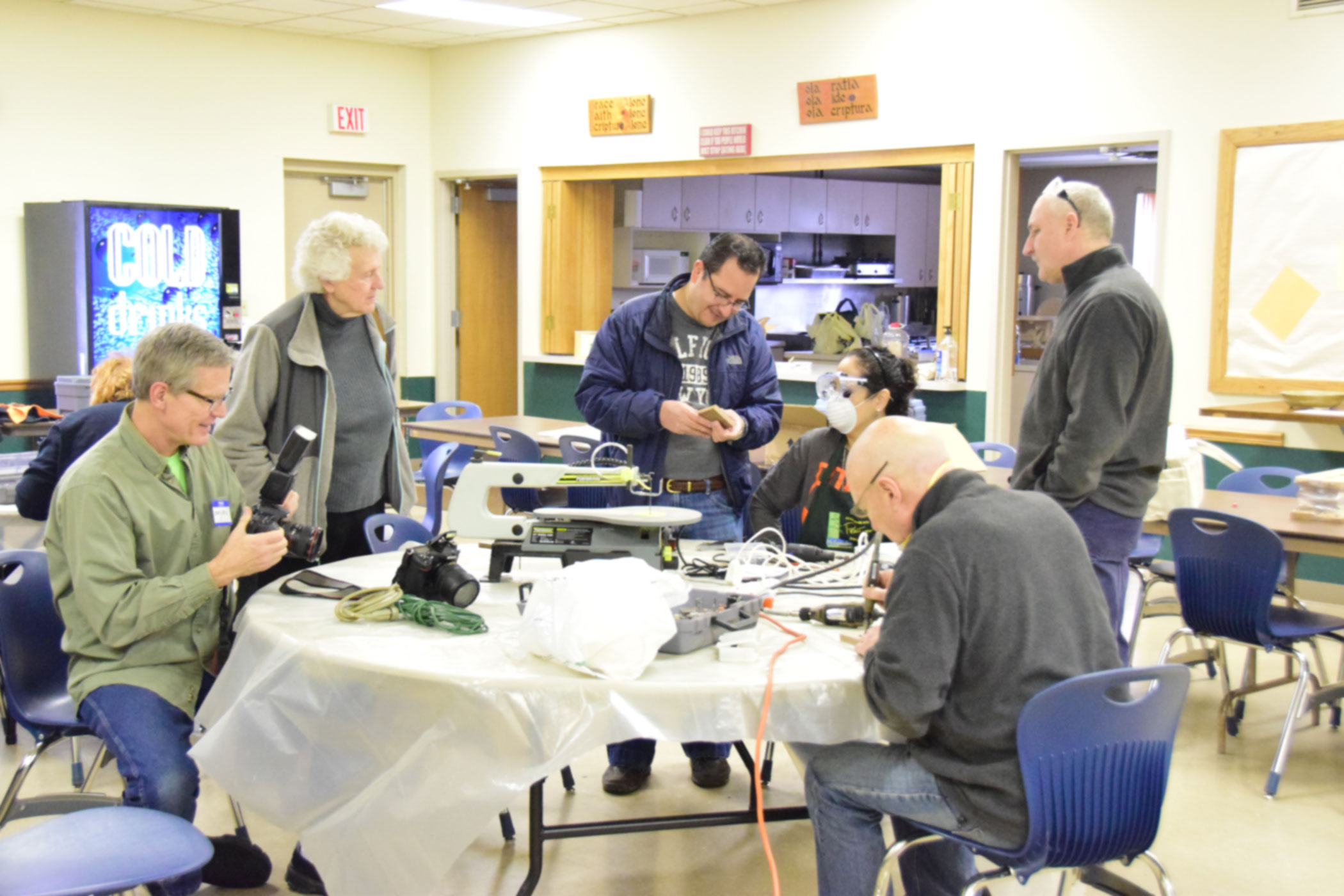 Workshops give bonsai enthusiast the opportunity to participate, learn and refine their bonsai skills. The educational workshops and demonstrations at MBS are substantive and interesting.

The programs are varied in location, content and skill level. You can participate in one or more workshops geared for beginner, intermediate, or advanced ability. Some workshops include bonsai material. Workshop participants are a group of people who have a passion for bonsai, learning and a sense of adventure.  Programs and participants promote a friendly and social atmosphere, you'll be surprised how quickly you make new friends.
Artist Workshops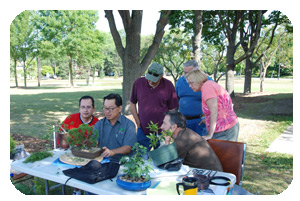 Artist workshops are usually held on weekends and consist of a small groups usually around 8 and the instructor. The workshop fee is determined by the cost of the room, material if provided and the visiting instructor. Workshop enrollment is limited and is filled on a first come first served basis. Each student provides his/her own tools, wire, potting materials and, unless it is a material-provided workshop, which includes a plant or tree to work on.
The picture right above is Suthin Sokolvisit working on a member's juniper outdoors as others look on. We usually hold our workshops at Boerner Botanical Garden. It's a great benefit to members to be able to participate with as many artist and workshops we schedule each year. If you cannot be a participant we also offer silent observer opportunities. Where you are able to watch and listen as workshop participants get instructions. The other image is of an early workshop with Jim Doyle where you can see an observer taking in the lessons. Click on the images to see larger images.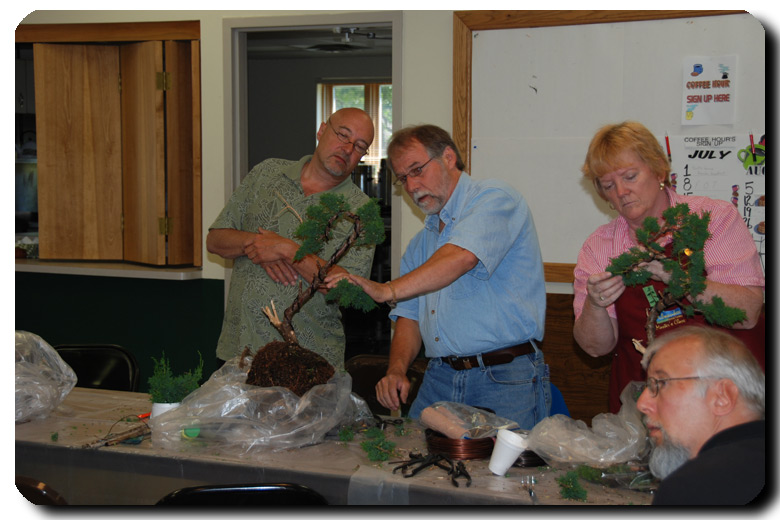 MBS holds several artist workshops every year. On the right you will see some profiles of our recent and frequent guest artists. And several more have visited in the past including, Walter Paul, John Naka, Ben Oki, Roy Nagatoshi, David DeGroot, Harold Suzaki, with top international artists Peter Adams from England, Hotsumi Terakawa from Holland and Luis Vallejo from Spain.
Open Workshops
Our resident artist who have studied with many of these world class artist now teach classes and workshops for your enrichment giving back to our wonderful organization. We host several every year.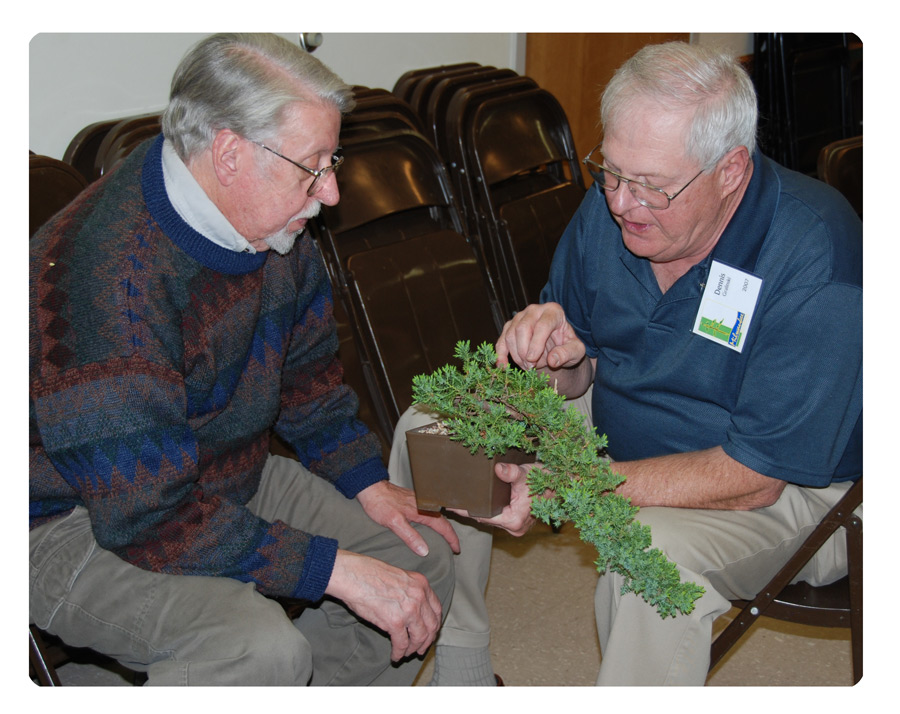 These are also usually held on weekends scattered throughout the year. A repotting workshop is planned that will bring experience members and new members together to help repot trees. There are several important reasons why it is necessary to periodically transplant bonsai. Re-energize your tree, renew the soil, stimulate growth, correct the nebari or simply transplant to a more suitable container. It's free for all MBS members. To participate expect to bring your tree, pot, soil, wire if needed, scissors, and something to work in to help keep the area clean (a black pan works great). You will also need a pail to take the old soil with you and paper towels for clean-up.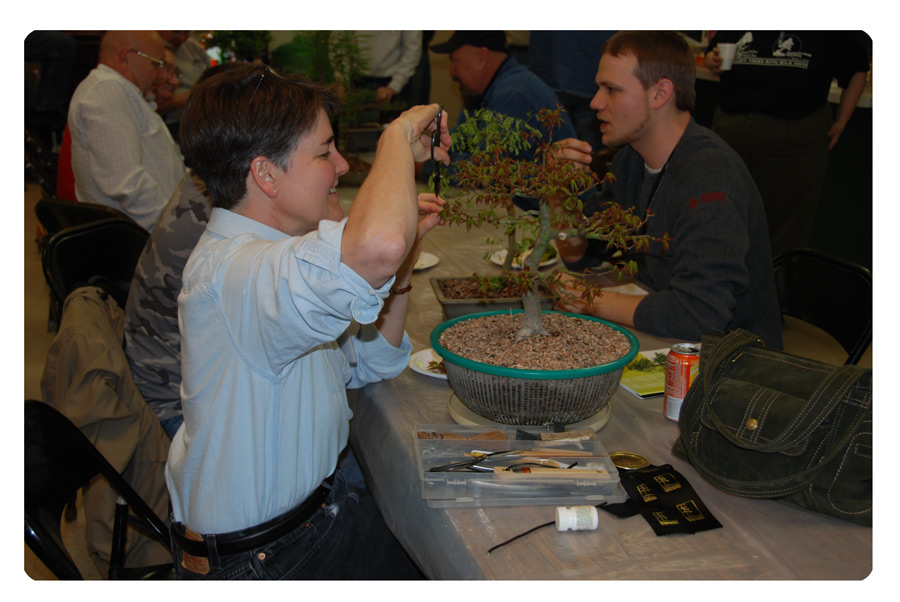 Other open workshops may be planned for getting your tree ready for an event. When exhibiting, cleanliness is of primary importance; judges have been known to disqualify bonsai with weeds. Regardless of how nice your tree is, you'll get extra points for presentation and we often work together getting trees ready.
We also have open workshops for cleaning pots and sharpening tools as we did this past February. And watch for special interest open workshops like focusing on wiring or grafting or even collecting. Check out the Ginko dig picture below.

Consider joining your best choice for bonsai fun, education, and community service, Join MBS, and let the fun begin.
Jack has been a bonsai enthusiast for over thirty years.
The former president of Bonsai Clubs International, he has served as a judge at bonsai exhibits and exhibited his own award winning bonsai at various shows. Jack's bonsai appear in both the National Arboretum Collection of American Bonsai in Washington D.C. and the Weyerhaeuser Pacific Rim Bonsai Collection in Tacoma, Washington. In 1987, he was named "One of America's Outstanding Bonsai Artists" by the National Bonsai Foundation. His book, Bonsai: The Art of Living Sculpture approaches bonsai as art, exploring how the traditional fine arts apply to bonsai. He focuses on the specific design elements of the bonsai - the roots, trunk, branches, foliage, and container - and discusses how bonsai artists manipulate elements for a specific effect. Unlike traditional arts, bonsai requires working with material that is alive and ever changing, presenting unique challenges and rewards.
In 1973, with a B.S. degree in horticulture from Delaware Valley College of Science and Agriculture, Jim Doyle started Nature`s Way Nursery and developed an early interest in Asian culture and plants.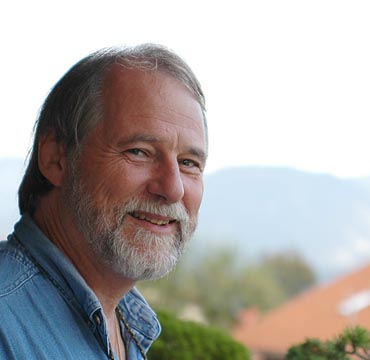 By 1980, through the influence of Chase Rosade, bonsai passed from being a hobby to a business/life-style. Jim attends many symposia, teaches year round to both adults and children at his studio and travels extensively. Today, along with his teaching, Jim continues to import bonsai, pots, tools and related garden items. Jim`s favorite tree is, of course, the one he is working on. He is a frequent visitor to our area and can be found every year at the Chicago Shows.
After this initial exposure Warren went on to study the rich Japanese culture that spawned this unique art form. In addition to his Asian studies, Warren majored in engineering and horticulture while attending college.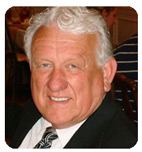 Warren's formal Bonsai studies and training has been with a wide variety of Japanese sensei, (teachers) which include such notables as John Yoshio Naka and Saburo Kato.
Arthur Joura is the Curator of Bonsai for the North Carolina Arboretum in Asheville NC. Joura's educational background is in fine art, having studied at the School of Visual Arts and the Art Student's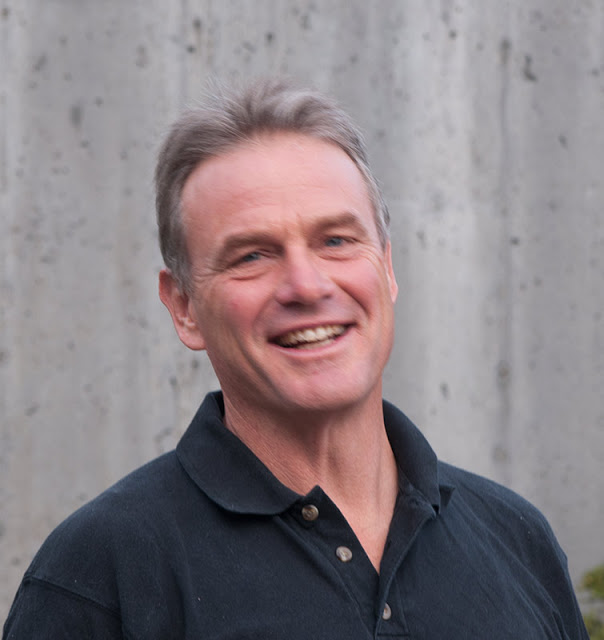 League in New York City. He has studied bonsai at The National Bonsai and Penjing Museum in Washington, DC, with American bonsai master Yuji Yoshimura, "The Father of American Bonsai", and at the Nippon Bonsai Association in Japan. Mr. Joura has appeared as a guest speaker and artist before our club and for many of the other clubs in the area. Mr. Joura has a unique approach and a unique philosophy of bonsai which often makes him controversial and always makes him a refreshing pleasure to hear. He is an accomplished artist, not only of bonsai, but on canvass and in any other medium he chooses to work in. He believes strongly in an American approach to the art and in the use of native plant materials.
Colin Lewis is a Englishman who somehow has ended up in the woods of Maine, where he raises bonsai, teaches, unpacks from his bonsai road show and drinks copious amounts of coffee in his pajamas. Most people who know Colin say that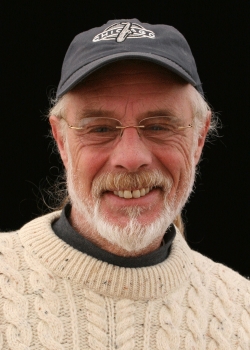 if you can get past his heavy foreign accent (joke!), you can learn a lot from him. Especially when it comes to the art of bonsai. Colin has a somewhat uncommon mix of talents. He can bonsai, he can teach, and, to top it off, he can write. So well in fact, that he has 17 books with his most popular is Growing and Displaying Bonsai. Colin has held his well known Intensive Weekend Courses here as well as visiting several times.
Ted Matson has been our society's sensei (Japanese title used to refer to or address for master instructor) since 2003.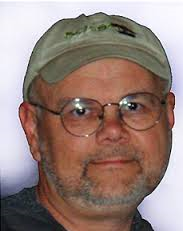 In 2012, Ted was honored and recognized for his great service to Golden State Bonsai Federation that also recognized his great service to the art of bonsai; someone who had extended their influence beyond the efforts of GSBF to promote the art of bonsai and encourage cooperation and unity of effort to achieve excellence within the entire bonsai community. To impress the significance of this award, we should note only one other person has ever been bestowed this award and that was John Naka.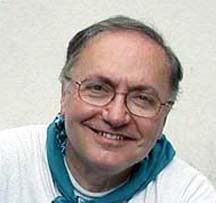 Jerry Meislik has been a major influence in American bonsai since the 1980s. In additional to his international reputation for growing tropical and native North American species, Jerry is well known as a frequent demonstrator at clubs and conventions. He is the author of over fifty magazine articles and his popular 2004 book Ficus: The Exotic Bonsai. Jerry has traveled extensively to study bonsai in Japan, Singapore, Malasia, Vietnam, Cambodia, Korea, Taiwan, Thailand and Hong Kong. Most importantly he has a love of ficus for bonsai that began over 25 years ago. He still is an active teacher and has taught bonsai classes at the Flathead Valley Community College in Kalispell, Montana. His teaching approach has been compared to Socrates: he asked questions and solicited opinions, and then waited for answers. Wrong answers were gently corrected. Right answers were acknowledged, often with "Did you hear what he/she just said?" to the rest of those there.
Matt Reel recently finished a staggering 8-year apprenticeship in Japan with master Shinji Suzuki.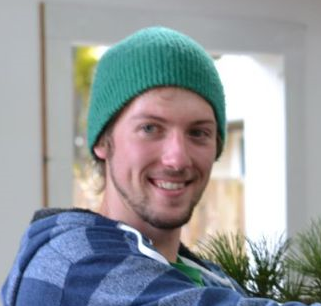 Matt returned to the US in 2014 and is known for his broad expertise in a wide range of conifers and deciduous trees, as well as his knowledge of bonsai pots and bonsai display aesthetics. Matt is increasingly in demand as a presenter, due to his highly-refined styling of trees, combined with his appealing manner. Matt's work on a large juniper was featured in the January 2015 issue of the Japanese bonsai magazine, Kinbon. He was also featured in the November issue. In 2016 he was the featured artist at Generation Bonsai with Walter Pall in Germany. And in 2017 he will be our featured guest for the 47th Annual Bonsai Exhibit.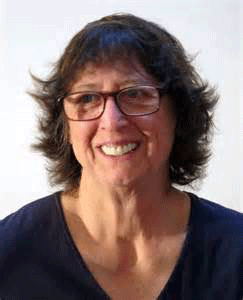 Kathy Shaner began bonsai in 1983 in California. After ten years of study she managed to obtain a 5 year apprenticeship with Sensei Yasuo Mitsuya, highly regarded Master of Gendai (contemporary form) bonsai training. She is the first non-Japanese citizen to be honored with the title of Bonsai Master by the Nippon Bonsai Kyodo Kumiai. Continuing to share the talents of her mentor, she is the curator for the Bonsai Garden at Lake Merritt and teacher of many students throughout the United States. MBS was extremely fortunate to welcome Kathy Shaner to judge our exhibit and lead workshops.
Andrew Smith is a contract forester in South Dakota's Black Hills. He became fascinated in bonsai in about 1994 while collecting core specimens from very ancient pines to use in past climate studies.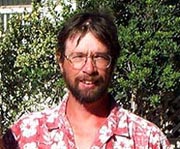 Andy has been a vendor in every convention that Milwaukee has hosted. We are very pleased to have him demonstrate on one of his collected trees. Andy transplants 300-400 trees per year for bonsai and has supplied demo and workshop trees for many of the world's best bonsai artists. He enjoys learning about this beautiful and extraordinary art and meeting with other enthusiasts around the country.
Mauro Stemberger was born in 1978 in Feltre, Italy and works as an architect and Bonsai artist. At the age of 14, he became fascinated about the art of Bonsai and started his passion with the local Bonsai club Feltre.
In the period 1994-2001 he had the chance to join workshops from well-known bonsai artists like Hotsumi Terakawa, Marc Noelanders, Horst Crekler, Edoardo Rossi and Salvatore Liporace. Since 2008 he's a recognized BCI (Bonsai Club International) Bonsai Instructor and previous President of the UBI (Italian Bonsai Association). Frequently Featured in Bonsai Focus, world famous Italian bonsai artist makes his first visit to Milwaukee in 2015.
Suthin Sukosolvisit has been a bonsai artist since 1970. Suthin has one of the finest selections of finished and pre-bonsai on the East Coast displayed at his nursery.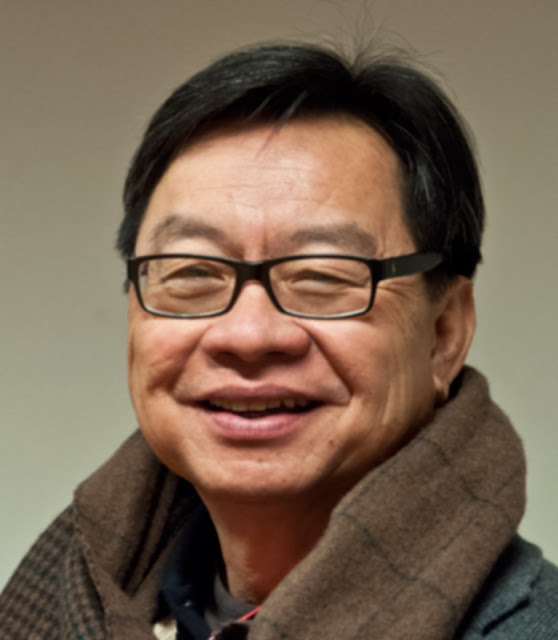 Being from Thailand, he has extensive experience with tropical bonsai and is also a magician with shohin sized bonsai. He is considered to be without equal as far as shohin bonsai in the states. He lectures all around the world, and has been the headliner at some of the biggest bonsai conventions in the United States. He is one of the most highly regarded speakers in the country and we are privileged to have him worek withy our various study groups and club members.
Peter Tea is an outstanding young bonsai artist, a graduate Boon's Bonsai Intensive program, winner of the Joshua Roth New Talent Bonsai Competition in 2009, and is starting his 2nd year of his 5-year apprenticeship with Bonsai Master Junichiro Tanaka in Nogoya, Japan.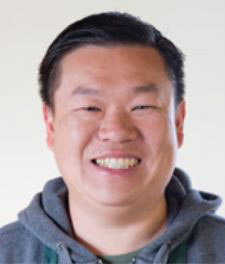 Peter introduces himself: "I am very open in my teaching and have never liked keeping Bonsai a secret. I will do my best in answering any questions members and guest may have. I like to create a fun open environment and work with people from all skill levels. All that I ask is that the membership is open as well and ready to learn new things in Bonsai."
Peter is currently our advance class instructore and often visits our society to present new ideas and current thinking.
For the schedule see What's New